How it works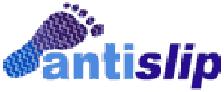 Stone flooring is naturally porous. Water collects, creating a hazardous, slippery surface




Anti-slip lies below the surface of the flooring when dry, so it is never walked on




Anti-slip

reacts instantly to moisture creating an extremely effective anti-slip condition
Safe to Apply

The system is environmentally friendly, fully biodegradable and contains no dangerous solvents or toxic chemicals. Application can therefore be undertaken with no disturbance to pedestrian movements in or around the building in question.

Moisture Reactive
Antislip is chemically bonded into the surface pores of the substrate and reacts when contacted with moisture. The moisture from a wet shoe is enough to create an instant reaction.





Not a coating
Because the antislip system is not a coating once the floor substrate has been treated no cure time or drying time is required and the floor can be walked on immediately following application.


---